Today I went to do a little Christmas shopping to buy presents for a few of my friends! I am not so good when it comes to buying gifts, but this year I decided to get in early and find the perfect presents! Luckily I am sure that none of my friends read this blog (I haven't even told them about it yet, actually!) so I can spill the beans on my latest buys...

For my bestest friend, I decided to buy a one month moshi membership. We used to have a great time playing Moshi Monsters together, but then she stopped playing whilst I became the biggest fan... I really think she would like the opportunity to get back into it again, and what better way to do this then through a membership?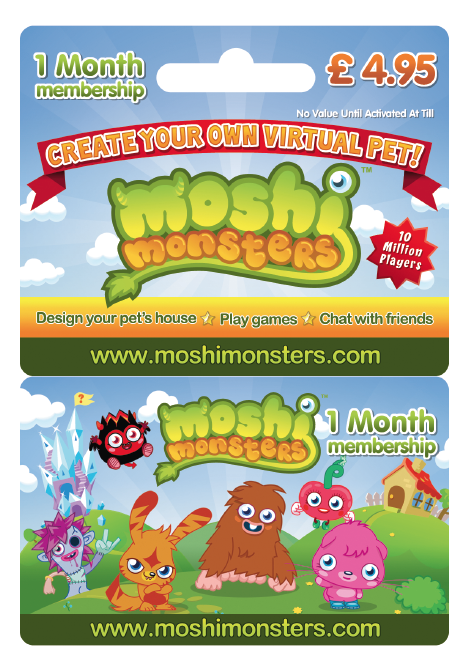 For my other best friend, finding a gift was a little harder. She is a little strange... But that is why I love her! She is really into Harry Potter and Ninjas at the moment, but even after hunting through a few shops I couldn't find anything. Then as a last resort I decided to go into the bookstore, where I found the whole collection of Harry Potter books! I didn't have a clue what ones she had read, but then I spotted an accompanyment book that I had at home, and I immediately knew that she would like it! It has background information on the creatures in the books along with random doodles! Perfect!
And finally I had to buy for my Secret Santa. I'm not sure if any of you have done this before but what happens is that everyone who is doing it puts their name in a hat and draws out someone else's name, then they have to buy that person a gift. It is a great way to make sure everyone gets something fairly! My class at school did this together, so it was likely that I got someone I didn't know very well. There is one easy way to overcome this problem, however... Chocolates! I decided to buy a Christmas Chocolate Gift Set, so I hope they enjoy.
I couldn't possibly manage to get pressents for everyone, so for my other friends I am going to get lots of Christmas cards! I'm not sure what these are going to be just yet, but I will try and find some special smaller gifts to put inside. I really hope they don't get upset!